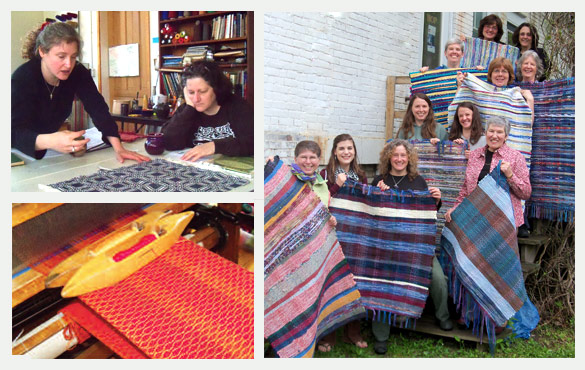 At the Vermont Weaving School, we work individually with each student, in a group setting, teaching in a way that best compliments your own learning style.
We begin with  a three day retreat, covering the basics of weaving. Our advanced beginning program meets monthly, over six months and is designed to develop proficiency while covering a wide range of weaving topics. Additional offerings include bi-monthly ongoing classes and topic retreats with guest teachers.
The school is equipped with twenty floor looms and a wide variety of equipment. There are plenty of yarns to choose from…different colors, fibers textures and a complete library of weaving books.
We are dealers for Schacht, Leclerc, Harrisville, Macomber and Glimakra looms and weaving equipment.  We are passionate about looms and enjoy helping students figure out which is the perfect loom for their projects, budget and space.
Vermont Weaving School is located in the heart of New England, four hours from New York City and two hours from Boston and Albany.