Looms & Weaving Equipment
We sell both Schacht and Macomber looms.  I feel that these two brands represent the best of the best.  I have been weaving on the same Macomber loom for twenty years.  I originally bought it used and it is now close to fifty years old.  I can't imagine a loom that is sturdier or easier to use.
I have been recently wooed by a Schacht Baby Wolf.  For years, I have heard weavers rave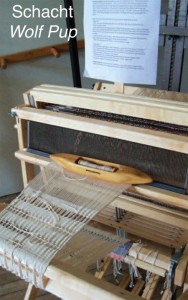 about them and now I understand why.  Schacht puts a lot of effort into building state-of-the-art looms and it shows.  They are beautifully crafted and a joy to use.  They have recently upgraded their Baby Wolf by adding a quick release back beam and began making a Wolf Pup jack loom called the LT.  Both of these innovations show the company's continuing attention creating a fantastic product.
Accessories:
We sell Macomber, Schacht and Harrisville accessories….shuttles, reeds, bobbin winders, warping boards.  We also have a good stock of used equipment, books and looms for sale.  Contact us for more information.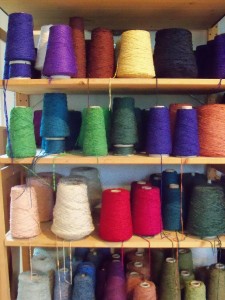 Yarns:
We carry a selection of mill end 1450 rayon chenille and close out 1300 rayon chenille.  Prices range from $5-10 per lb.  We also have some great thin shiny lurex to add sparkles to your handwovens at $20 per lb and a selection of Harrisville Highland wools.
Handwovens
Check visit my showroom, find me at a show or visit: www.vermontweaver.com to see Dena's latest work.